Living Benefits Life Insurance
The living benefits life insurance not only provides protection for a beneficiary after the death of the insured, but also offers benefit to the insured even when they are alive in case of Chronic illness, Critical Illness, Terminal illness. The living benefits life insurance is also known as the accelerated death benefit rider. (Varies carriers may not have all illnesses covered)
How it Works?
Unlike the traditional insurance which involves the payment of premiums useable only by a beneficiary after the death of a policyholder, the living benefit life insurance allows access to living benefits to the policyholder when they are alive, thus providing room for quality healthcare and removing huge debts from healthcare which the insured will have to settle.
It has been revealed that health insurances do not optimally cater for all health expenses incurred during a sudden attack of diseases like cancer, heart diseases and stroke due to reasons such as payments for deductibles, out of pocket expenses and other similar payments that are usually battled with during emergency health situations.
In fact, a study conducted in Harvard showed that over 60% of personal bankruptcy in the US result after medical problems, coincidentally, many of the people affected have health insurance which are unable to cater completely for their health expenses, thus, making additional protection vital and a living benefits life insurance optimally caters for that.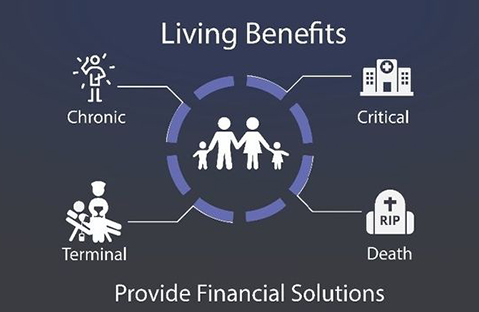 The living benefits life insurance works on account of three separate health circumstances:
Critical illness: In case of this, the life benefit usually pays one lump sum in the occurrence of a serious illness such as cancer, a heart attack or a stroke.
Chronic illness: If you have been diagnosed of a chronic illness, and performing activities of daily living such as eating, dressing, transferring, continence, toileting, and bathing become difficult or almost impossible, you will be paid a monthly benefit. You can be paid up to a quarter of the amount of your death benefit annually in this policy depending on carrier guidelines and excess benefits received may be taxed.
Terminal illness: If you are diagnosed with a terminal illness and have been given a life expectancy of between 12 months to 24 months, life benefits funds will be paid to you, which can be used for experimental treatment protocols, final expenses, or other purposes which you might consider important.
The fact in the living benefits life insurance yet remains that the amount of money that can be received by your beneficiary as your death benefit would be reduced by the amount used as your living benefit. But considering the advantage that you have the option to accelerate or convert a part of your death benefit funds into a helpful sum for yourself in case of an illness could be a critically important step in helping you and your family through an unexpected health crisis and can even be the reason why you will be able to recover from your illness and enjoy a disease-free life.
Who can Benefit from Living Benefits Life Insurance?
Basically, everyone who is at risk of experiencing an illness most especially cardiovascular diseases, stroke or cancer is bound to optimally benefit from this insurance plan, which makes it a very viable insurance policy especially at this time when the risk for non-communicable diseases is increasing due to constantly changing lifestyle that favors sedentariness and other risk factors of these diseases.
Also, people of all ages, both old and young adults can benefit from this insurance plan, as critical, chronic and terminal illnesses are increasingly encroaching into younger ages and unexpected illnesses certainly make expenses go up and savings come down. Even, a survey showed that one in four cancer patients or their families claimed that they spent all or most of their savings on treatment during the illness, this can be well catered for if there is a living benefit attached to their life insurance.